Please note: I am currently only taking bookings for previous customers, wih the exception of Canapés.
Wild In The Pantry offers private dinner party and other personal chef services. I am personal chef Frank Boddy, based in the village of Colne, near St Ives, Cambridgeshire, and covering Huntingdon, Peterborough, Bedford, Luton, Norwich, Cambridge, and further afield up to a 1 hour 15 min radius of my home.
Why did I call my business Wild In The Pantry? Because I believe that cooking should be fun, creative, dynamic, experimental and absorbing. Putting together ingredients in a way that nobody has ever done before is the most exciting thing you can do with your clothes on.
I believe in giving my customers personal service, making them happy, and always trying to exceed expectations. Around 75% of my business is returning customers and recommendations.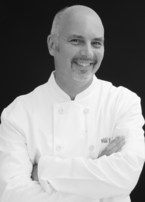 The photos of food on this website are taken by myself, of food I have cooked. Ironically, this site does not use cookies!
Oh yes, and before you ask, the name Wild In The Pantry is a play on the Bow Wow Wow song 'Go Wild In The Country' from 1981. That's frighteningly nearly 40 years ago.