Please note: I am not taking any bookings for in-venue cooking and dining for new customers going forward. I will continue to provide some dining services to regular customers, and the following:
- canapé delivery, and on site canapé cooking and service, for orders over 300 pieces (e.g. large parties and weddings)
- once a month my partner Sandra and I offer our Pop-Out Restaurant, a high quality chilled takeaway meal, details here
- cookery demonstrations for WI meetings, events and commercial work
- anything that sounds different, interesting or dare I say exciting
- I am planning to start wine tasting and food pairing evenings in Autumn 2021
I am personal chef Frank Boddy, based in the village of Colne, near St Ives, Cambridgeshire, and working in locations within an 1 hour of my home.
I believe in giving my customers personal service, making them happy, and always trying to exceed expectations. Most of my business is returning customers and recommendations.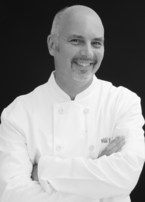 The photos of food on this website are taken by myself, of food I have cooked.
Oh yes, and before you ask, the name Wild In The Pantry is a play on the Bow Wow Wow song 'Go Wild In The Country' from 1981. That's frighteningly nearly 40 years ago.