Please note: There are lots of things I am planning to do in the near future, and not enough time to do them, so I am not taking any more bookings for in-venue cooking and dining. I will continue to provide a few services to existing customers, and the following:
- once a month my partner Sandra and I offer our Pop-Out Restaurant, a high quality chilled takeaway meal, details here
- cookery demonstrations for WI meetings
- I am hoping to start wine tasting and food pairing evenings at our home in 2022
Although I am not taking any more bookings, my partner Sandra may be able to fit you in.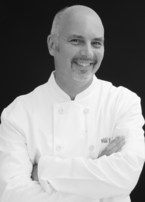 The photos of food on this website are taken by myself, of food I have cooked.
Oh yes, and before you ask, the name Wild In The Pantry is a play on the Bow Wow Wow song 'Go Wild In The Country' from 1981. That's frighteningly 40 years ago.