Hen Cookery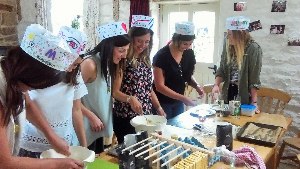 Hens making fresh pasta, Matlock, July 2015 - read review

Why not try your hand at learning some new kitchen skills as part of your hen weekend? It's good fun, and you get to eat what you've made! Recipes, ingredients and equipment are provided for you then choose from the following activities. The number of participants is only limited by the space you have available in your kitchen.

Italian Cookery Lesson

Everyone has a go at making fresh pasta from scratch, grissini (Italian breadsticks, which for some inexplicable reason usually turn out in rude shapes), chicken saltimbocca (learn a cheffy trick or two), and spectacular sugar baskets. Afterwards, I cook your evening meal using the elements you have prepared, then you sit down to enjoy a 3 course dinner, served by myself.
Italian starter platter
Chicken saltimbocca with fresh pasta and roasted tomato sauce
Panna cotta, poached strawberries and your own sugar baskets
Cost including lesson, 3 course meal and ingredients:- £32 per person, for 12 or more hens.
Length of cookery lesson:- about 2 hours
Canapé Lesson

Everyone has the chance to make 4 different canapés. Afterwards, I cook the remainder of your meal while you get changed, then you sit down with a glass or two and enjoy your own canapés, followed by a 2 course meal.
Courgette Candles
Spinach and Ricotta Filo Parcels
Smoked Salmon Blini
Prosciutto, Pear and Rocket Rolls
Cost:- £90 in addition to your meal.
Length of cookery lesson:- about 1 1/2 hours
Sugar Work
Learn how to have fun with sugar, making sugar baskets, sugar springs, spun sugar "angel hair" or hazelnut "tears". Eveyone has the chance to make their own.

Cost:- £60 in addition to your meal (costed separately)
Length of cookery lesson:- about 1 1/2 hours depending on numbers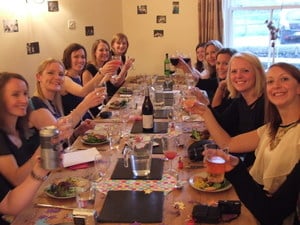 Hen party near Norwich, June 2014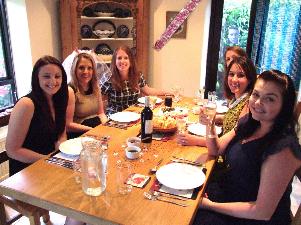 Hen party in the Peak District, 2010